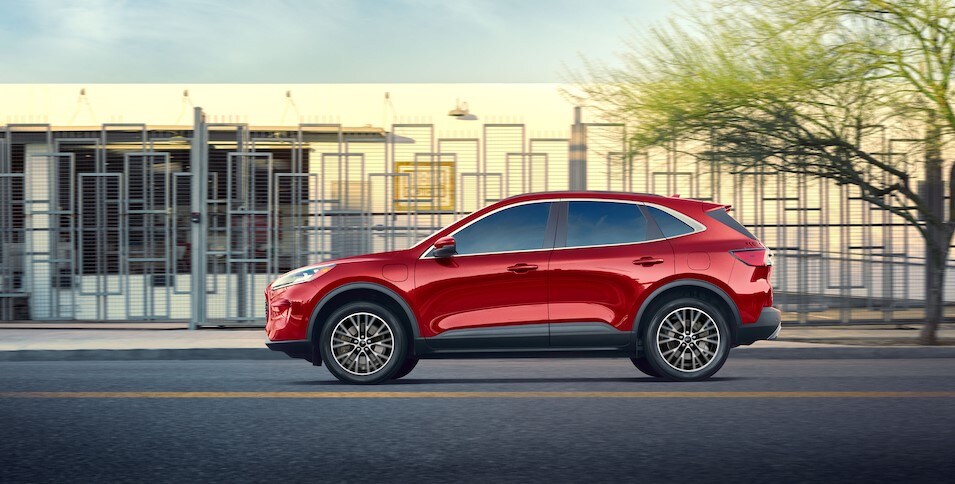 New Ford Escape
Available near Fremont, IN
Discover More in a New Ford Escape, Available in Coldwater MI
Car shopping can be a stressful time, especially if you are on a budget. Also, locating the perfect vehicle that fits your style and personality, need for large space and seating, great performance requirements, and the desire for the latest technology and safety features can be a large feat. Nevertheless, a new Ford Escape may be the answer you have been searching for. This SUV not only has all of the above when it comes to car qualities, but it also has money-saving features in it as well.
The new Ford Escape is a well-rounded vehicle. Performance is big factor when it comes to car shopping. This SUV packs power, due to its impressive towing capacity, engine type, and level of horsepower. There are multiple engine options to choose from, depending on your choice of trim level. This vehicle also gets great gas mileage as well. With having awesome gas mileage and the option of your choice of engine, the new Ford Escape really gives you different ways of saving money throughout the time you own one.
To match its outstanding performance, this SUV also has a stunning appearance. The choice of trim levels really allows you to choose the right one for your taste and specificity. The interior is just as sleek, it has plenty of seating for the entire family and luxurious features as well. These relaxing features are a great addition to this vehicle, making long drives feel stress-free. The features continue in the safety and technology department. With easy connectivity and accessibility to your smart phone, the new Ford Escape allows you to talk and text without taking your hands off the steering wheel and eyes off the roadway.
There are other safety warnings and systems in place to keep you and your vehicle's occupants safe at all times from Bronson to Union City MI. Altogether, the features it has really portrays the level of greatness and quality that the new Ford Escape puts out on the table for new car shoppers. Visit us near Fremont IN to see a new Ford Escape for yourself, speak with our staff about test driving one today.
Make an Inquiry
* Indicates a required field