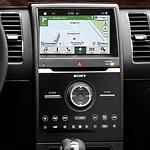 If you're in the market for a vehicle large enough to accommodate up to seven passengers comfortably, but you're looking for something with design features that beyond your traditional SUV, then you should check out the Ford Flex here at Cole Ford Lincoln LLC in Coldwater, MI! 2020 is the last model year the Flex was made and it has now retired, so get one while you can!
Full-Length Glass Roof
The full-length glass roof was designed to bring more natural light into the cabin for a well-lit experience and to allow for natural airflow as well.
Second Row 60/40 Bench Seat with Auto Fold Feature
The second row of bench seats was designed with a 60/40 split-fold to make it easier to get into the back row, and with the Auto Fold Feature, this has been made even easier.
Available Black Painted Roof, Mirrors, and Wheels
These available features lend a trendy design detail that beckons for attention.