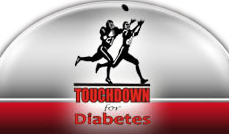 Touchdown for Diabetes, organized by Cole Community Solutions, is the primary source of funding for The Borgess Diabetes Center. More than $1,300,000 has been raised for diabetes research and patient care over the years, and all proceeds now stay in the Greater Kalamazoo Area.
To learn more about the annual fundraiser "Touchdown for Diabetes" sponsored by the Cole Automotive Group and hosted at Cole Century Cadillac, Buick, GMC every September, please click here (www.touchdowndiabetes.com).
The Borgess Diabetes Center provides physician clinical care and diabetes education for people with diabetes who are uninsured, cannot afford to obtain regular medical care, and live in the Greater Kalamazoo area. While many services are offered to uninsured residents in the county, prior to the Diabetes Center, dedicated diabetes care was not among them. The clinic is housed within Borgess Health, lowering or eliminating facility and equipment expenses. Here, quality service is provided to uninsured or underinsured patients who would otherwise receive limited or no medical treatment for their condition. Diabetes care in this physician-based setting reduces the use of local emergency rooms for routine diabetes treatment, and also reduces hospitalizations.
To learn more about the Borgess Diabetes Center, available medical care, medicines, and/or education call (269)226-8321.